At the Heart Of…
Custom made map puzzles for bricks and mortar stores across
America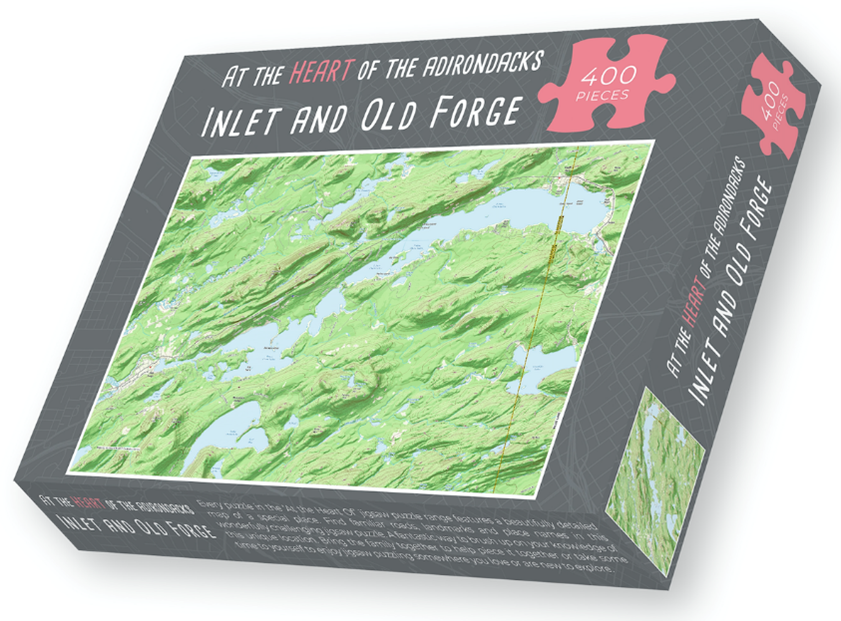 This 400 piece custom made puzzle is the perfect 'gift
size' to fit into a handbag as a lasting memento of visiting a town.
Are you looking for a bespoke retail gift for your store?
All you need to do is provide us with the full address and ZIP code of where you want the center point of the map to be focused, and we create a bespoke puzzle just for you!
We license the trusted United States Geological Survey
(USGS) mapping to create the image and turn it into a jigsaw. Your address will act as the center point of the map plus 14.5 miles (East to West) by 9 miles (North to South) of that spot - showing roads, contour lines, notable buildings, transport infrastructure, woods, water and vegetation.
We will also design in the 'town name' that you wish to have on the box cover after the words 'At the Heart of..'.
The box includes a standard letter sized poster of the map to help you puzzle the image, folded up inside. You will receive a digital proof of your map and box design to sign off before we proceed.
Specification:
Finished puzzles measures: 16.14 x 12.2" (41 x 31cm)
Small box measures: 9 x 6.8 x 1"
Millboard (cardboard bit of puzzle): 0.05" (1.5mm thick)
Standard letter size poster of the map, full color
Lead time is 4 weeks to manufacture
Minimum order is only 25 puzzles!
RRP $32
Trade $16 per puzzle (which includes FREE shipping!)
MOQ of 25 puzzles = $400
Contact Clare Owen today to get started:
+44 (0)1837 811 302
clare@alljigsawpuzzles.co.uk