Custom Made Wooden Puzzles
Design An Heirloom Gift
We regard our wooden puzzles as our premium range with a 'wow' factor. They are the choice of brands in need of promotional jigsaws or when you need to create something special.
Our wooden puzzles are 2mm thick. Your image would be printed, glued onto wood and laser cut. The pieces are housed in a cloth bag and sturdy black box with your custom artwork on the lid and tray.
The retail starting price for these puzzles is £45 each, and they really stand out on the gift shop floor, next to the standard millboard puzzles.
Whimsies
The wonderful thing about our wooden puzzles is that we can create a number of novelty shaped pieces or "whimsies", so called because Victorian Craftsmen – who invented the jigsaw concept during the 19th century – cut unusually shaped pieces "on a whim". This is where you can get really creative with your bespoke puzzle!

We can create up to 5 'whimsical pieces' per puzzle in any shape you want – such as a star, moustache, wheelbarrow, house, or bicycle. The whimsies can match your brand or your image choice and they make the wooden jigsaw totally unique to you.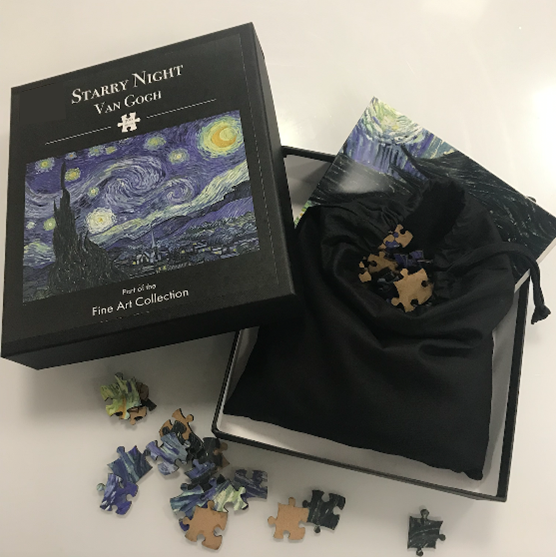 Our wooden puzzles have a maximum number of 300 pieces
with a finished size of 31 x 47cm. The minimum order
quantity is 25 puzzles per image.